Posted by WKF head office on August 3rd, 2017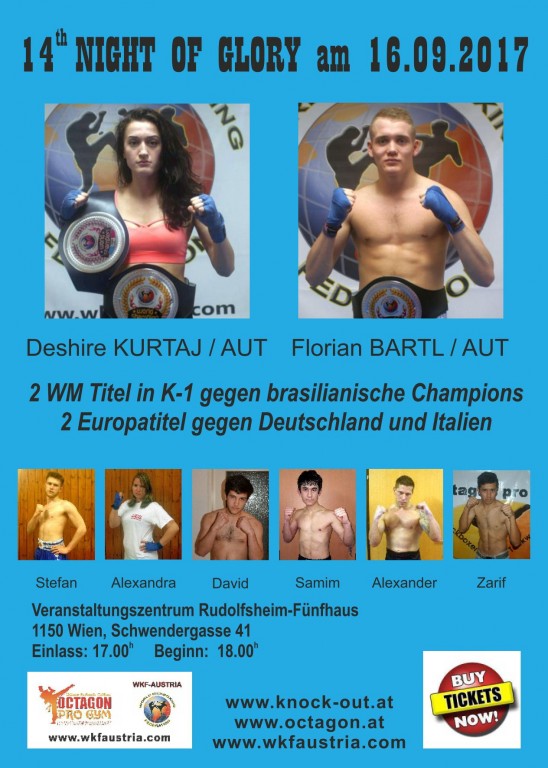 WKF AUSTRIA head office announce next international event in Austria. Venue 1150 Vienna, Promoter www.knock-out.at
Next international Night of Glory 14th is scheduled for  September 16th and so many international fights are on the fight card.
A team of five Brazilian Champions comes to Vienna, to challenge best Europeans.
Daniel SILVA challenge home town fighter Florian BARTL for the PRO-AM World title Lightheavyweight – 81Kg / 178 lbs in K-1 rules.
Brazilian Lady Thaynara LUSTOSA challenge three times World champion Deshire KURTAJ for the WKF World title in Featherweight – 54Kg / 119 lbs.
Next main fight is for the PPF – Pro Point Fighting European title fight + 91 Kg/200 lbs.  Austrian Heavyweight Champion Harald KRETSCHMER vs. German World Champion Andre MERGENER.
Next main fight in Welterweight – 67 Kg / 147 lbs for PPF European title with Italian Francesco TURCO vs. Austrian Stefan ZELLER.
More international fights with Germans are on the fight card. A rumour states that a fighter from WKF USA is committed to a title.

Updated FIGHTCARD and
all photos in the GALLERY