Posted by WKF head office on April 16th, 2016
WKF NETHERLAND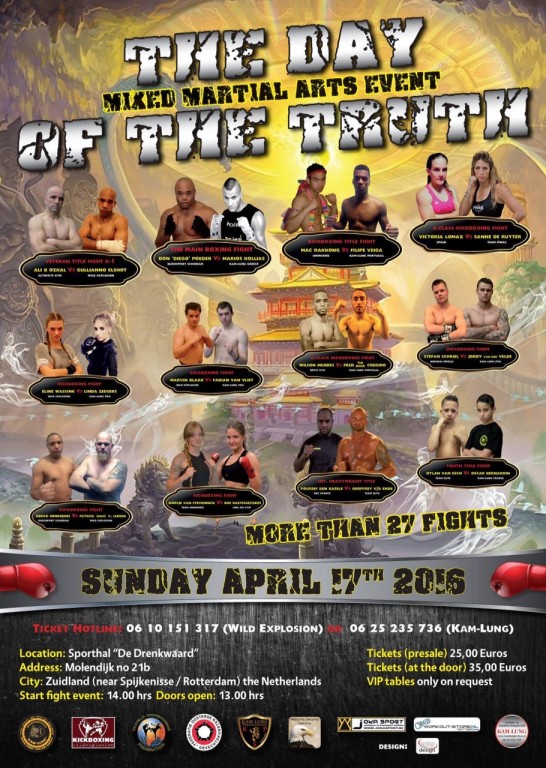 president Mr. Sijou VAN DER SPEK announce next great event.
It seems like everybody wants to fight on the great Mixed Martial Arts event "The Day of The Truth".
More than 22 fights already matched. Already more than 220 fighters have signed in for the Great Mixed Martial Arts event "The Day of the Truth" April 17th 2016, Zuidland (near Spijkenisse / Rotterdam) the Netherlands.
Be sure you be on time! The Matchmaking has already started. We have fighters from: France, Croatia, Italy, Portugal, Greece, Spain, Germany, Switzerland, Uganda, Slovenia, Cyprus and the Netherlands.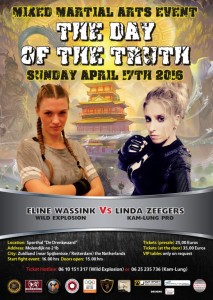 You can participate in the following disciplines: Fullcontact Kyokushinkai, Fullcontact Wing Chun, Fullcontact Stickfighting, Sanda/Sanshou, Kickboxing, Muay Thai, Full Muay Thai, Grappling, MMA and Boxing. Please send your athletes (participants) to: info@kamlung.nl
We only accept full fighters profiles: Name, First Name, Date of Birth, Weight, System, class and total fight record, including a sharp picture. Sorry, but incomplete fighters profiles will not be accepted.
The best fighter will be rewarded! For any request contact Mr. Van Der Spek bay mail.