Posted by WKF head office on July 2nd, 2012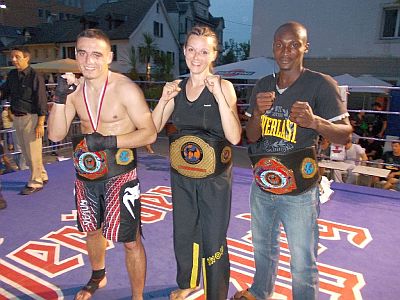 WKF Supervisor Mr. Harald FOLLADORI and his team Black Dragon Bregenz  organised once more again an event in amazing City Bregenz, sanctioned by WKF AUSTRIA.  Again with a top class fight card, with International Champions from Ghana, Venezuela, Turkey, Switzerland, Germany. Albania and of course Austria.
First title fight was for the International Austrian Champion belt – 81,40 Kg in K-1 rules, Mark KOFLER / AUT vs. Orhan ÖCAN / TUR, winner by pts. Öcan
Second title fight for the European Champion belt in PPF – Pro Point Fighting – Daniela KLOPFER/ AUT  vs. Bernadette von DÜRCKHEIM / GER, winner Klopfer.
Third was Intercontinental title fight in full contact -75 Kg Christof MATZER / AUT vs. Gerald DAH from Accra, Ghana, winner by points Dah.
Fourth was Intercontinental title fight in K-1 rules – 78,10 Kg Daniel STAMPFL / AUT vs.  Fatmir VEJSELI / ALB, winner by KO round three Stampfl. Photos here in the gallery.
Read more about WKF in the World